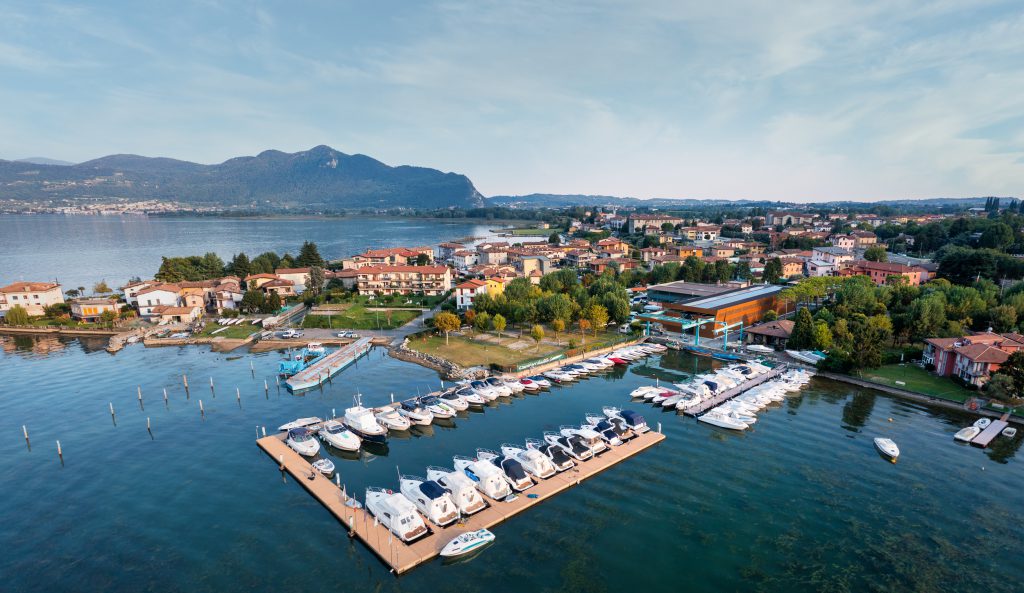 Early January I received an email from Bellini Nautica: they explained that they were a restorer of vintage Riva yachts in Italy, and enquired if I would be interested in a creative partnership (I had to read it twice).
I don't know much about the Italian yacht industry, but by strange coincidence I apparently knew them: a few weeks earlier I had seen a Top Gear shoot by Dennis Noten of the Riva Aquarama Lamborghini together with the Aventador Ultimae, and the former was owned and managed by Bellini.
So we set up a Zoom call, talked a few specifics, and to their surprise I would be in the region the week after. Perfect!
Fast forward about a week, and we were at Bellini Nautica HQ, greeted by huge (but very cute) Athena, a Great Dane roaming around the property (we think she developed a small crush for Smokey, who was unsure about the somewhat intimidating height difference). Also greeting us was their awesome motto in huge metal letters on the wall: "Don't be jealous if we love your boat more than you do". Nice one. Their facility is located right on the edge of Lago d'Iseo, our favourite lake in Italy surrounded by impressive mountains and fun, windy roads.
We met with Martina, third generation Bellini and head of Marketing, who we had met during the Zoom call. She offered to have us shown around all their facilities first, which started with a tour of their restoration area. It was a sight to behold: a hall full of vintage Riva yachts, all in various stages of refurbishment by an army of skilled artisans. One boat was stripped of all its wood, another of its interior, while yet another was in the process of being polished: a process that takes weeks of intense labour and ultimately 32 layers of varnish. While seeing all this craftsmanship in action, I felt a rush of pride: a company with this much appreciation for tradition, handwork and aesthetics was legitimately interested in my work, and even more: they wanted to work together.
Next up was the Museum Collection. A huge open space full of all the different types of vintage Riva yachts. We got detailed information on the history and details of all of them, but soon we stuck to one particular example: the Riva Aquarama Lamborghini that Dennis had shot. This boat was purchased new by Ferruccio Lamborghini, who requested a few… small alterations. Although he liked the Riva V8 engines, he thought it would be more fitting to equip the boat with two Lamborghini V12s from the 350 GT. Because sure, why not. Riva and Lamborghini engineers lost a lot of sleep over it, but finally managed to fit the two enormous engines in the hull. The yacht is stunning, with very recognisable Lamborghini lettering on the stern and various small Lamborghini references all over.
After the amazingly detailed tour, we briefly met up again, and discussed timing for a potential shoot. We were unsure how long we'd be in Italy (we agreed to "leave when we felt like it" since none of us had any where to be anytime soon), and so it was decided we'd do a trial shoot the next Monday evening.
Bellini had arranged to have an Aquarama sitting outside in front of their storage facility, which was a stunning sight when we arrived. I shot various angles (side, front, rear), and then proceeded to shoot the interior (it's surprisingly easy getting into a Riva yacht on land – although I'm sure it didn't look very graceful). I shot beautiful details (for example, the center of the steering wheel is an aluminium Riva logo with a miniature propeller behind it), and once again let the beauty of these stunning historical yachts sink in. One thing we had noticed earlier (and Bellini confirmed) is a strong connection between Riva and the automotive world. It's not a coincidence: the interiors are heavily based on luxury automobile interiors of the 50s and 60s. Stepping into a Riva can best be described as stepping inside a colourful Cadillac interior, surrounded by blue and white leather, meticulously crafted chrome details and beautiful classic wood.
Against all my expectations, the shoot was easy and smooth, with much less hassle and logistics than I had feared. We discussed some more details then said goodbye, to continue our trip along beautiful Lago d'Iseo. I'm looking forward to discuss more of the partnership soon, which will be an exciting new project in 2023 and hope to continue to do so in the future.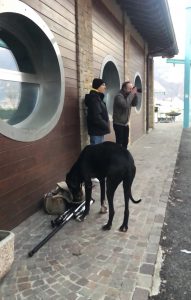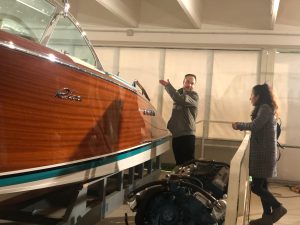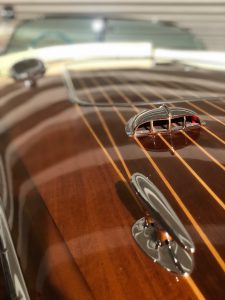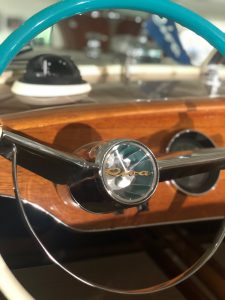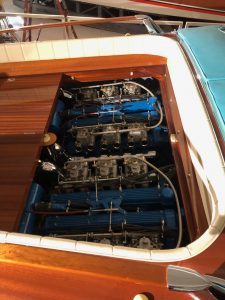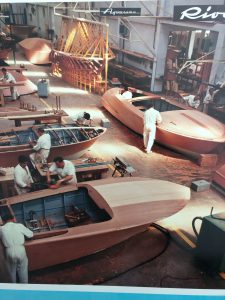 ---
---