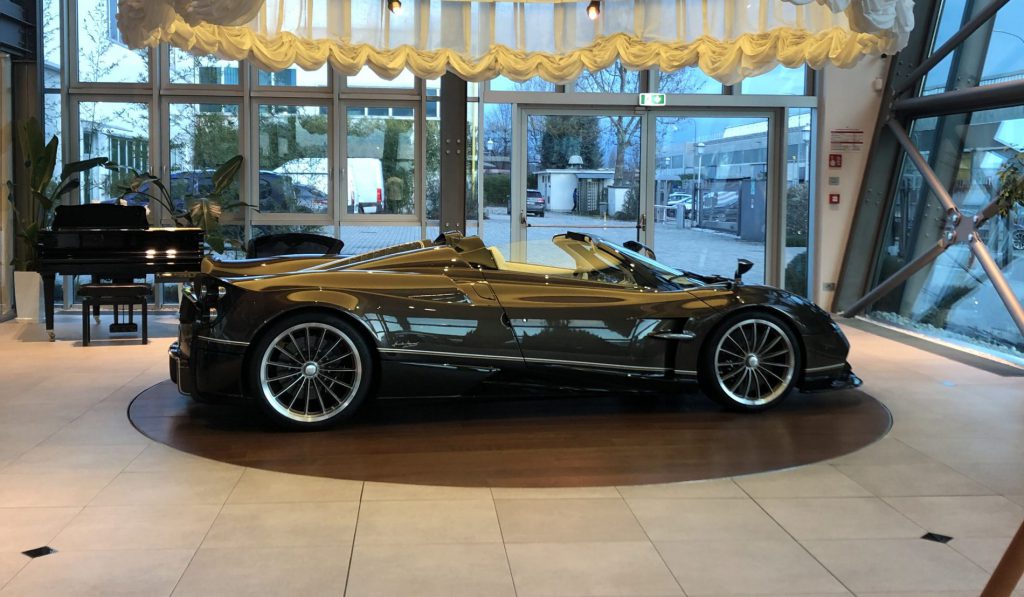 When I was 15 years old, I spent the entire Summer working at a pancake restaurant while all my friends were riding around on their bikes and going on holidays. My objective was clear: at the end of the Summer I wanted a PlayStation 2 and a copy of Gran Turismo 3.
Despite a few hiccups I eventually succeeded, and somewhere around September the shiny new thing was next to our ancient, bulbous television set. It took about 30 minutes to develop an unhealthy addiction to Gran Turismo 3: the game was nothing like any race game I'd ever played, in part thanks to the enormous amount of cars in the game – almost 200. Although the whole JDM thing was quite new to me, I knew most of the cars, thanks in part to the release of the first Fast & Furious movie that year. But one car I had definitely never heard of: the mysterious Pagani Zonda C12.
The Zonda looked out of this world, with the cabin almost sitting on the front wheels and its alien-like rear and quad exhausts squeezed together in a circular shape. I was mesmerised by it. Sadly, for some reason the car was absolutely terrible in the game (allegedly they messed up the gearing ratios). But the car stuck.
Fast forward 22 years: I had just signed the contract with Lannoo Publishers for my book Supercars, and we were going through the list of cars that we wanted in the book. We settled on a list of 50 cars, and although Pagani came up during the meeting we decided to be realistic. Unicorns like the McLaren F1 and Lexus LFA would be hard enough to find, let alone anything Pagani. It just didn't seem sensible.
And then the unthinkable happened. A few weeks before the final deadline, I was shooting a Mercedes SLR McLaren Stirling Moss edition over at Burago, a hypercar collection managed by Xavier in Belgium. At the end of the shoot, he mentioned that he had a Pagani Huayra R on the way. A whát? In case you don't know: the Huayra is the successor of the Zonda, and the Huayra R is the absolutely ridiculous track-only version. Somewhere in mid January of 2023 the car arrived, and I happily spent 5 hours driving to shoot it. A magnificent beast.
Timing of the shoot was spot-on, as I was leaving to Italy the day after. Lannoo was very happy to have a Pagani in the book, although another car had fallen through and we were still stuck at 49 cars. So be it. Nobody was going to count the amount of cars in the book, and if they did they might even think it was funny that there were 49 in stead of 50.
We were in a beautiful little boutique hotel near Lago d'Iseo in Northern Italy, when it occurred to us that we were within reasonable distance of Pagani. As I had meetings with some people at Lamborghini and Ferrari anyway, it seemed silly not to visit the Pagani museum which was just 20 minutes away from Lamborghini.
A year earlier, there had been some e-mailing back and forth with Pagani (including Christopher, head of marketing and son of founder Horacio Pagani) so I had names I could mention. I decided to be bold, walked up to the reception and asked if any of them were currently in the office and had some time to talk about shooting a Zonda for the book. Keep in mind that this was a Wednesday, and my hard deadline for the book was Friday. I had little hope that anyone would show up, let alone that we'd be able to arrange a photoshoot in the coming 48 hours. Well, at least the reception guy was cool and friendly. But this is where things got crazy.
Because someone did show up: Pagani's in-house photographer Daniele. He explained that they remembered the e-mail conversation, and were still excited about the book. We checked schedules, and it turned out the shoot could be done… that very Friday night. Goodness me. I would've been more than happy to shoot a Zonda 1:1 scale model in the public museum, but the scope was expanded: I'd be able to shoot the very first Zonda, chassis #001, at the famous production line area (you might have seen it in press photos – it's an incredibly beautiful area with real cobble stones and an actual clock tower – which works!).
I slept very little for those next 48 hours.
Then Friday came. My meeting in Maranello had ran late while consuming way too many cappuccinos, so I rushed to San Cesario Sul Panaro – Paganitown – only to realise I was quite a bit too early. After a look around the museum and the same cool reception guy complimenting me on the red Countach photos that Lamborghini had posted the day before (I was blushing), Daniele came out to greet me and showed me to the production line area. Jaw drop. I swore not to take any photos or videos (imagine paying millions for a car, then having some shmuck post it on Instagram before you even get to see it yourself), so you will have to do with my description of the facility.
For one, the cobble stones ARE real. And so is the clock tower, with the bell ringing every hour. There are park benches, a bicycle rack for Horacio's collection, actual street lights, plants, little garden areas and so on. In many ways, it's like Disneyland. But Disneyland doesn't have a stunning production line of Pagani Huayras at the center of it. This place did.
As the staff was still working we couldn't shoot the Zonda right away, so we still had time to explore the facility. We looked at interior components, bare engines and carbon monocoques. We discussed Pagani company culture (unsurprisingly, it is amazing), had a look at the new Pagani Utopia and talked about cameras, publishing books, cars and old jobs. It also turned out we both discovered Pagani through the same Gran Turismo game – funny.
And then, as the last factory employee turned off the engine of yet another Huayra, we had the green light. The Zonda C12 #001 was pushed into position (at this point it occurred to me that the Gran Turismo team had probably based their in-game model on this very car in front of me – goosebumps) and Daniele switched off the lights.
When trying to convince someone to let me shoot a car, I have the terrible habit of understating the time I need to do so. "10 to 15 minutes max", which in theory is enough to take a few good shots, but definitely not enough to make it an extraordinary series. What made this evening truly amazing is Daniele making it very clear that he was willing to take all the time in the world, to make sure the pictures would come out as good as they could. He helped figuring out all the right angles, operated the shutter out on the balcony while I would light the car from below, and so on. The already incredible experience was so much better knowing that the end result would be just as amazing.
I'm still working on the photos (I decided to take a bit more time this time) but you will see them soon. Not just in the book, but on Pagani's social media channels as well eventually. The ultimate honour. Cherry on top: Christopher came to say hi, and complimented me on my work. Horacio's son likes my work. The only way this evening could get ANY better was if I was gifted a free Pagani with an unlimited fuel card.
I walked into Pagani a bit sheepishly, with sweaty hands and feeling completely out of place. Two days later I was shooting one of the rarest and exclusive cars in the world, in what is probably the greatest car production facility of all time. All while having great talks with Daniele and seeing things I never thought my eyes would see. I always appreciate and thank people for making time and effort to let me do my thing, but in this case a sincere thanks is in order. A truly memorable evening that I will cherish for the rest of my life.
Grazie.
---
---